Hydraykuc System
Rexroth valves are to ensure quick response and high precision.Plus optional MOOG or Rexroth servo valve,your desire of perfect molding becomes true.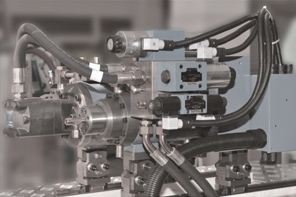 Injection Unit
The intergrated double drive cylinder injection system with symmetrical oil circuit can ensure the injection stable and precise.weldless oil circuit provides high speed and high pressure.Linear guide bearings control friction within the minimum resistance.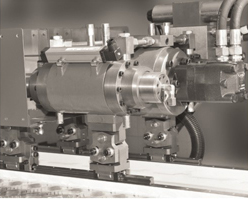 Direct Clamping System
Patented direct clamping system,distinguished as high pressure,efficient,and energy saving,can realize 680 mm/sec.fast mould close/open and perfect low pressure mould protection.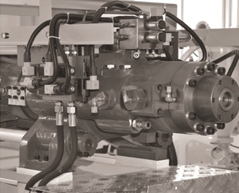 Platen Design
Advanced platen design,big platen space&stroke and European standard platen screw hole,can satisfy your various needs.Mininal platen distortion tolerance ensures perfect molding.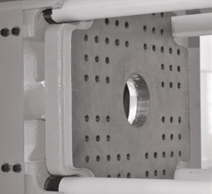 INJECTION UNIT
JH 15
Screw specification
A
B
C
Screw diameter (mm)
16
18
20
Screw stroke (mm)
90
90
90
Screw L:D(L/D)
22.5
20
18
Shot volume (cm³)
18
23
28
Injection rate(g)
16
21
25
Ⅱ
Injection pressure(Mpa)
317
250
203
Dwell pressure(kgf/cm²)
3233
2555
2069
Injection speed(mm/sec)
246
240
80
Injection rate(cm³/sec)
49.3
61
75.4
Screw rotate speed (rpm)
320
320
320
Ⅲ
Injection pressure(Mpa)
167
132
107
Dwell pressure(kgf/cm²)
1706
1348
1092
Injection speed(mm/sec)
465
460
460
Injection rate(cm³/sec)
93.5
117
144.4
Screw rotate speed (rpm)
320
320
320
Nozzle sealing force(KN)
14.4
Nozzle advance stroke(mm)
50
Heater power (KW)
3.5
CLAMPING UNIT
Clamp force (KN)
14.7
Opening force (KN)
32.5
Platen stroke (mm)
270
Space between tie bars(mm)
270x220
Max.mold height(mm)
370or470
Min.mold height(mm)
100 or 200
Ejector number(pc)
1
Ejector force (KN)
18.5
Ejector stroke(mm)
50
OTHERS
Special pump pressure(Mpa)
25
Standard pump pressure(Mpa)
23
Machine dimensions(LxWxH) m
5.5
Pump motor power(KW)
3.0x0.85x1.4
Machine weight(T)
1.5
Oil tank capacity(L)
100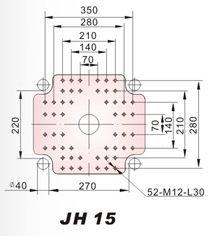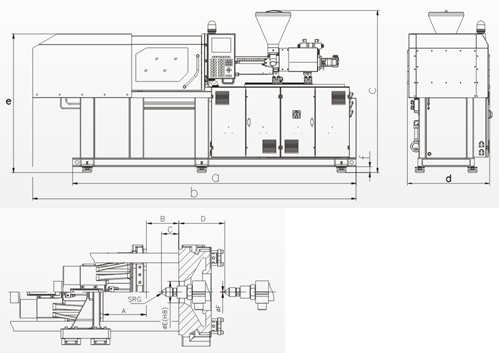 | | | | | | | | | | | | | | |
| --- | --- | --- | --- | --- | --- | --- | --- | --- | --- | --- | --- | --- | --- |
| | A | B | C | D | E | F | G | a | b | c | d | e | f |
| JH15 | 270 | 100 | 50 | 200 | 60 | 1.8 | 10 | 2280 | 3000 | 1600 | 790 | 1430 | 70 |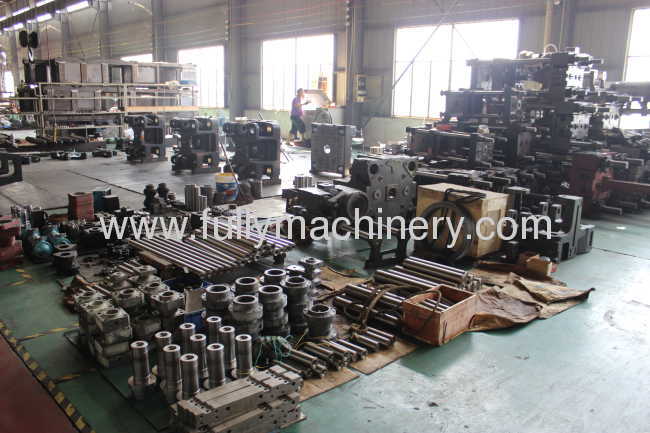 There are many operation fault injection molding machine, depends on your machine maintenance and your factory environment has a relationship, such as: security door not closed well, high pressure mode locking alarm, alarm, low pressure die locking oil temperature alarm, lubricating oil level low alarm, hopper blockage or no material, plastic injection failure, back not to limit and so on. Specific issues can refer you to injection molding machine instructions are common faults and processing methods; if not also can according to your brand injection molding machine in the online search
High rigid locking mold configuration to achieve high speed, high voltage requirements, greatly eliminating all kinds of mechanical deformation, more conducive to prolong the mould life, greatly improved the precision of products
Injection molding machine, injection molding machine or injection machine. It is the main forming equipment plastic products, thermoplastic or thermosetting plastics using plastic molding into various shapes. Divided into vertical, horizontal, all electric. The function of heating plastic injection, high voltage is applied to the molten plastic, so that the injection and full of mold cavity
Welcome to my company contact information