Cabinet Dryer
Performance characteristic

1.Suitable for drying of all kinds of plastic raw materials;able to dry material with different texture and color simultaneously,particularly for materials with high demand for temperature,in small quantities and wide colors;also suitable for other preheating or drying purpose e.g. edible,medical,eletronicc electroplating.
2.This machine blasted by blower and then blows to heating wire.blast temperature was controlled by temperature controller and even circulated in Cabinet Dryer and dry material in it.
3.This machine is suitable for drying various kinds but little usage of materials,also can be suitable for drying electronic,electroplating,medical,printer and so on.
4.This machine is even hot air distribution which can make the high efficiency.
5.The temperature controller adopts PID system which can control the temperature errors in the scope of ±3 degree.
6.This machine is installed with high-temperature protection device to confirmuse safety.
7.This machine is with 24 hours' timer which is more easier to use.

Specifications


Model



Power
(kw)

Blower
(kw)

Temperature Range
(℃)

Numbers of Tray



Capacity
(kg)

Dimensions
L*W*H(cm)

Weight
(kg)

SD-5

6

0.75

250

5

45

85*70*110

154

SD-9

6

0.75

250

9

80

85*70*145

190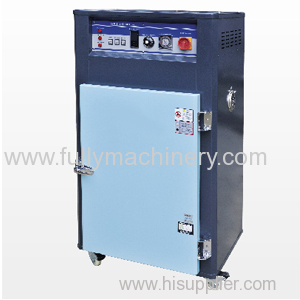 Cabinet Dryer
we reserve the right to change specifications without prior notice.