Carbon Brush Autoloader
Performance characteristic
Separation design between the controller and the material hopper, which is convenient and simple to operate.
Accurate micro computer control and alarm attentions.
Motor overload protection equipped to effectively prolong the service life of the motor.
With the high voltage blower fan, the materials can be tran sported in a long distance.
The hopper is made from the stainless steel to ensure that the material can not be polluted.
The machine type one-to-several plastic jetting-molding machine can be selected for charging as per customer's needs.
The electric eye hopper or vacuum hopper can be selected according to customer's needs.
Construction layout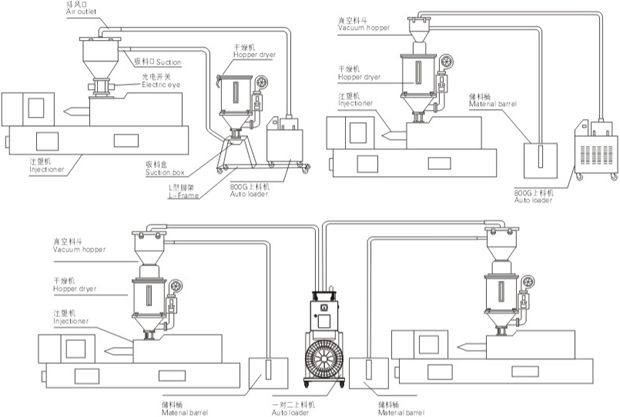 Autoloader mode from SAL-3HP the above ones can be choose to equip with two or more hoppers to process the multi-stage comveying.
Autoloader mode from SAL-800G2 & the above ones all can be choose to equip with the powder suction hopper (P) to convey the powder.

Specifications

Model

Motor
(kw)

Conveying
Capacity
(kg/hr)

Conveying
Height
(m)

Material
Hopper
Volume(L)

Conveying
Tube
Calibre(mm)
Extemal
Dimensions
(kg)Weight
Controller
(L*W*H)
Material Hopper
(L*W*H)

Controller

Material
Hopper
SAL-700G
1
300
4.5
6
Φ38
450*380*600
360*260*430
30
6
SAL-700GE
1
300
4.5
6
Φ38
450*380*600
360*260*530
30
6
We reserve the right to change specifications without prior notice.
Carbon Brush Autoloader