Full Servo Robot

APPLICABLE ON CLAMPING FORCE OF 50TONS TO 600TONS
PLASTIC INJECTION MOLDING MACHINE
The vertical crosswise of product arm drove by sensitive AC servo motor, three axis can move synchronized, precision position around±0.1mm, the robot adopts with German RexRoth linear slide, high-speed, low noisy.
Three axis can imitate manual taking action synchronously, such as double barb, circle, slant & taking irregular way to simplify the difficulty of fixture reduce the cost.
The robot controlled by the industry classic computer, equipped with instruct function and edited user's program software, can edit the software depend on the user's request. It can satisfy the hard gripping and automatical application, such as inseting, piling, packaging, testing, weighing and so on, help the factory to achieve manufacture automatically.
Adjustable gripper pressure for runner removal.
It can inspect the air presure automatically, it will alarm when its not safe.
The robot complys with EUROMAP12 or SPI rules and the standard interface forming by the connection between EUROMAP12 or EUROPAP67 and molding machine.

(Model)

(Unit)
SVC-700
(D)
SVC-800
(D)
SVC-900
(D)
SVC700W
(D)
SVC900W
(D)
SVC1000W
(D)
SVC1200W
(D)
SVC1400W
(D)
(Type)


(Single-Stage)
(Telescopic type)

(I.M.M.range)
Ton
50~200
100~280
150~320
50~200
100~320
200~450
320~500
400~600

(Vertical Stroke)
MM
700
800
900
700
900
1000
1200
1400

(Crosswise Stroke)
MM
:300
:150
(Product Arm):420
(Material Arm):150
:380
:150
(Product Arm):450
(Material Arm):200

(Product Arm):520

(MaterialArm):200

(Traverse Stroke)
MM
1525
1765
1765
1525
1765
1765
2005
2005

(Swivel angle)
Degree
90
90
90
90
90
90
90
90

(Max.loading)
Kg
8
8
8
10
10
10
10
10

(Dry Take Out Time)
Sec
1.2
1.3
1.4
1.1
1.2
1.3
1.4
1.5

(Dry Cycle Time)
Sec
9
9.5
10
8
9
9.5
10
11

(Drive System)
X.Y..Z(AC Servo motor)
(Auxiliary arm adopted pneumatic cylinder)

(Working Pressure)
5~7kgf/cm²

(Air Consumption)
NI/
cycle
6(10)
6(11)
6(12)
6(11)
6(12)
6(13)
6(15)
6(16)

(Power Aource)
Ac
1HP 200V 50/60HZ

(Power Capacity)
Kva
1.6
2.0
2.0
2.0
2.0
2.0
2.5
2.5
(Net Weight)
Kg
230
235
236
230
250
260
280
300

D:Double Arm Lable


| | | | | | | | | | | | | | | |
| --- | --- | --- | --- | --- | --- | --- | --- | --- | --- | --- | --- | --- | --- | --- |
| (Model) | A | B | C | D | E | F | G | H | I | J | K | L | M | N |
| SVC-700 | 2510 | 950 | 1525 | 1550 | 350 | 1150 | 142 | 172 | 370 | 700 | 1000 | 180 | 140 | 150 |
| SVC-800 | 2750 | 950 | 1765 | 1650 | 350 | 1270 | 142 | 172 | 370 | 800 | 1120 | 180 | 140 | 150 |
| SVC-900 | 2750 | 950 | 1765 | 1750 | 350 | 1270 | 142 | 172 | 370 | 900 | 1120 | 180 | 140 | 150 |
| SVC-700W | 2510 | 950 | 1525 | 1200 | 350 | 1150 | 142 | 172 | 370 | 700 | 1000 | 220 | 140 | 150 |
| SVC-900W | 2750 | 950 | 1765 | 1300 | 350 | 1270 | 142 | 172 | 370 | 900 | 1120 | 220 | 140 | 150 |
| SVC-1000W | 2750 | 950 | 1765 | 1350 | 350 | 1270 | 142 | 172 | 370 | 1000 | 1120 | 220 | 140 | 150 |
| SVC-1200W | 2990 | 950 | 2005 | 1450 | 350 | 1390 | 142 | 172 | 370 | 1200 | 1240 | 220 | 140 | 150 |
| SVC-1400W | 2990 | 950 | 2005 | 1550 | 350 | 1390 | 142 | 172 | 370 | 1400 | 1240 | 220 | 140 | 150 |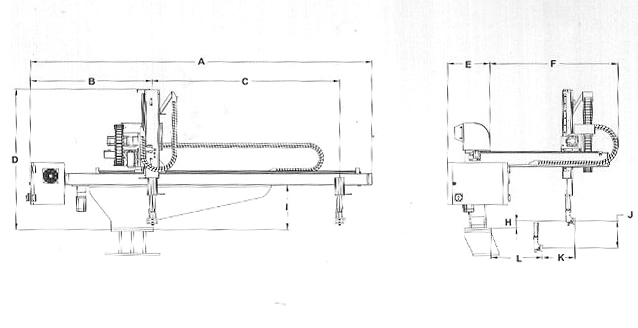 Full Servo Robot