Hopper dryer for PET
Performance characteristic

1.The hopper is made from high quality of stanless steel to ensure that the materials won't be polluted.
2.The out layer is made of special material which is fashionable and attractive.
3.The high-efficiency insulation material between internal layer and out layer to reduce the heat loss.
4.Hot air down-blowing design ensures the even temperature in the hopper.
5.The temperature is controlled by the import PID temp.controller to ensure the precision temperature.
6.The 24H timer can achieve device startup in advance to improve work efficiency.
7.Equipping with the cleaning door,which is convenient for cleaning the hopper.

Specifications








Model
Capacity
Heater Power
Blower Power
Extemal Dimensions
Weight
SHD-40L
25
4.2
120
620*680*1085
50
SHD-80L
50
4.2
120
650*780*1310
60
SHD-120L
75
4.2
120
680*790*1430
65
SHD-160L
100
7
150
740*970*1560
70
SHD-230L
150
7
155
770*1020*1730
80
SHD-300L
200
12
380
920*1120*1980
100
SHD-380L
250
12
380
950*1170*2080
130
SHD-460L
300
14.5
400
1120*1010*2120
160
SHD-600L
400
18
550
850*1400*2300
200
SHD-700L
500
18
550
990*950*2100
230
SHD-800L
600
24
750
990*950*2290
250
SHD-1000L
700
30
750
1100*1050*2500
320
SHD-1100L
800
30
1100
1100*1050*2500
370
SHD-1500L
1000
36
1100
1145*1100*2700
490
SHD-1700L
1200
40
1500
1200*1250*3100
550
SHD-2000L
1500
45
2200
1200*1360*3330
600
SHD-2800L
2000
50
2200
1385*1360*3330
700
SHD-3500L
2500
50
4000
1400*1360*4170
800
SHD-4000L
3000
54
4000
1500*1460*4170
880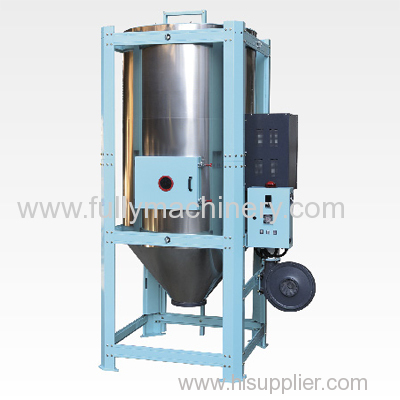 we reserve the right to change specifications without prior notice.
Hopper dryer for PET