Belt Conveyors
Performance characteristic

PVC Belt conveyor equipped with elastic device to ensure the reliable operation of run scission.
SCB Belt conveyor equips with speed governer to adjut the conveying speed.
The height of SCB Belt conveyor an be adjusted within limits.
SCB-T Belt conveyor equips with baffle plate for blocking the products & materials avoiding be out.

Construction layout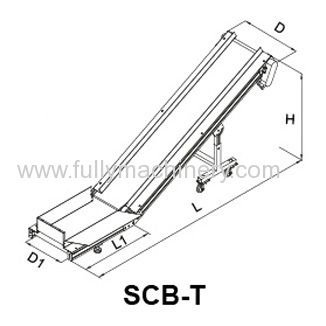 Specifications


Model
Power
(W)
Conveying
Speed(m/min)
Belt
Width(mm)

Weight
(kg)
L
(mm)
L1
(mm)
D
(mm)
D1
(mm)
H
(mm)
H1
(mm)
SCB-300T
180
0-9.5
400
127
2350
700
550
400
970