Precise Horizontal Plastic Injection Mould Machine

Characteristics of Clamping Unit
3.1 Optimum designed double-toggle five-joint clamping mechanism has functions such as big force enlarge rate, high-speed and stable movement.
3.2 Having hard chromed on the surface, the pull rods are corrosion-resistant and wear-resistant.
3.3 Using automatic centralized lubrication system.
3.4 The parts of dynamic mould plate and crosshead use lubrication bearing, which has no greasy dirt and can serve even longer.
3.5 Hydraulic eject device with once or multiple eject function.
3.6 With automatic mould-adjust function.
YH130-210
INJECTION UNIT


Sxrew diameter mm
40
Screw stroke mm
150
Screw L:D L/D
25
Shot volume cm3
188
shot weight Ps g
170
injection pressure Mpa
144
dwell pressure kgf/cm2
1466
injection speed mm/sec
300
injection rate cm3/sec
376.8
screw rotate speed rpm
450
nozzle sealing force KN
35.2
nozzle advancestroke mm
80
heater power KW
12.82
CLAMPING UNIT


clamp force KN
1300-2100
toggle steoke mm
custom made
space between tie bars mm
500×500
max.mould height mm
custom made
min.mould height mm
custom made
ejector number pc
5
ejector force KN
61.5
ejector stroke mm
custom made
OTHERS


specialpump pressure Mpa
23
machine dimensions(L×W×H)m


Machine weight T


oil tank capacity L
350
pump motor power KW
22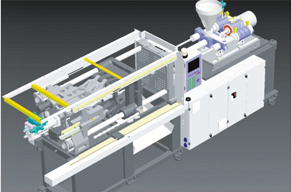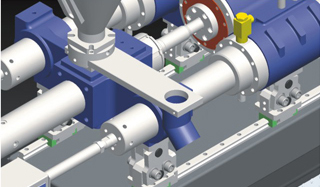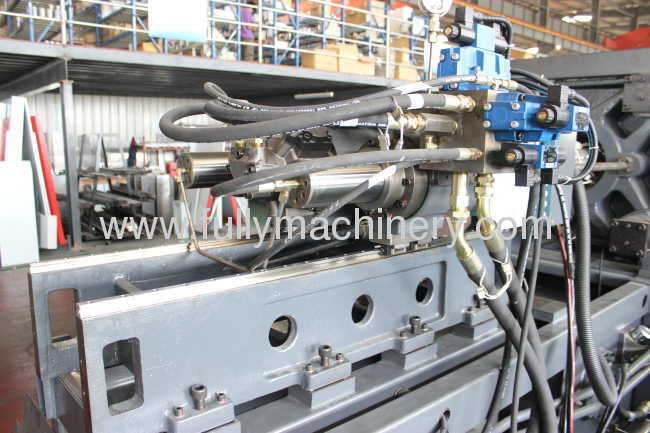 The thin-walled products demand, combined with the high-speed thin wall injection machine design the development of new technology, the machine series storage stability, its unique injection system, hydraulic system, computer control system, locking system with high strength and wear resistance, fast, so that the properties of high speed, fully meet the requirements for high voltage. The empty short cycle time (2.6 seconds -3.6 seconds) injection of high pressure (up to 240MPA) injection speed (up to 600MM/S), fully qualified for the production of thin-walled products, especially suitable for the production of thin wall (0.4MM) tableware and other containers.
,,,.
A new circuit of electric control system, multiple sets of proportional control, computer controller dedicated, shorten the whole machine cycle time.
,5,.
The injection unit accumulator, the basic injection 5 times faster, especially suitable for the production of thin-walled products.
,,,.
Proportional valve control installation precision mold parts, reduce the template reaction time, improve the production cycle efficiency, and to fine protective effect on mold.
.
High wear resistance and high lubricity sleeve shaft locking connecting rod structure to ensure the service life.
\,,,
High rigid locking mold configuration to achieve high speed, high voltage requirements, greatly eliminating all kinds of mechanical deformation, more conducive to prolong the mould life, greatly improved the precision of products
Injection molding machine, injection molding machine or injection machine. It is the main forming equipment plastic products, thermoplastic or thermosetting plastics using plastic molding into various shapes. Divided into vertical, horizontal, all electric. The function of heating plastic injection, high voltage is applied to the molten plastic, so that the injection and full of mold cavity
Welcome to my company contact information