High speed injection molding machine variable pump energy saving
This series machine has improved the machining accuracy of the part of the machine and precision of assemnly, as well as its rigidity, intensity and complete machine performance.

They apply to high precision thermoplastics and widely used for instruments, electrons, vehicles and articles of everyday use etc.

GH260
INJECTION UNIT
A
B
Sxrew diameter mm
45
45
Screw stroke mm
225
225
Screw L:D L/D
25
25
Shot volume cm3
358
368
shot weight Ps g
322
322
injection pressure Mpa
156
157
dwell pressure kgf/cm2
1587
1599
injection speed mm/sec
280
300
injection rate cm3/sec
445.1
476.9
screw rotate speed rpm
400
400
nozzle sealing force KN
54.4
40.6
nozzle advancestroke mm
50
80
heater power KW
14.1
CLAMPING UNIT


clamp force KN
2600
toggle steoke mm
560
space between tie bars mm
570×570
max.mould height mm
600
700
min.mould height mm
240
300
ejector number pc
5
ejector force KN
61.5
ejector stroke mm
160
OTHERS




specialpump pressure Mpa
21
23
machine dimensions(L×W×H)m
6.05×1.4×1.95
Machine weight T
9.5
10
oil tank capacity L
350
pump motor power KW
30
Energy saving precise high speed injection molding machine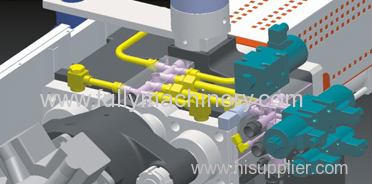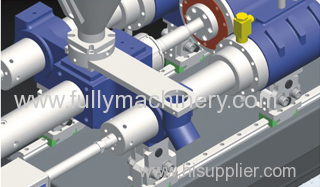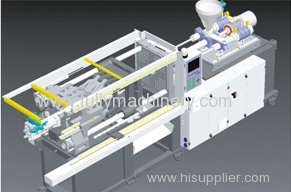 With the continuous development of science and technology, ultra-thin, high precision plastic products used in all aspects of society is more and more widely, the higher of the injection molding machine injection speed, precision are required. The company for the new demand to conform to the new situation and the domestic and foreign market, the successful completion of the development, to the market.

The products in the initial design, grasp the change tradition, innovation concept, current situation of market of sufficient investigation and factory production product and customer demand for the product, the other opened up new ideas, benefit by mutual discussion.
\\\\,,\.
Our design ideas to practical, high speed, high accuracy, safety, environmental protection, capacity of multi function, new style, can enrich and satisfy the new needs of customers.
,,..
Promotion of the listing, the product of the utility model, is beneficial to the enterprise benefit to further increase. Improve product diversification.
,,0.02,500mm/s,.
The project mainly for precision high-speed electric injection system of vertical injection molding machine, servo motor with screw screw control injection, injection volume precision average deviations of less than 0.02%, the injection speed of up to 500mm/s, can completely meet the requirements of forming ultrathin high precision plastic products.
:,\\,,,.
The structure of the injection system: ordinary vertical injection molding machine is changed into electric injection system, including the injection motor fixing plate, injection screw, fixed plate feeding motor and servo motor, servo motor through a special synchronous belt drive injection screw rotation, screw nut screw rod to move up and down, so as to realize the injection and loosening action.
Injection molding machine, injection molding machine or injection machine. It is the main forming equipment plastic products, thermoplastic or thermosetting plastics using plastic molding into various shapes. Divided into vertical, horizontal, all electric. The function of heating plastic injection, high voltage is applied to the molten plastic, so that the injection and full of mold cavity
Welcome to my company contact information